2022 Five-Week Vedanta Course
September 28 @ 9:00 am

-

November 2 @ 11:00 am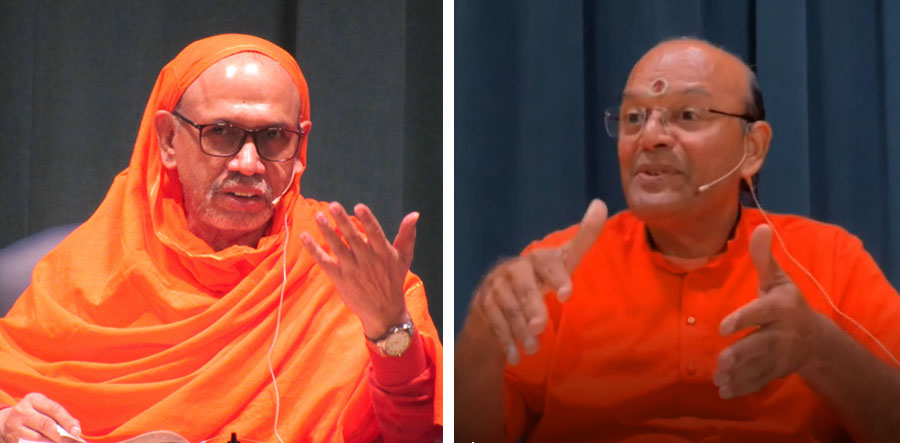 TOPICS
Brahma Sutras with Swami Tattvavidananda
With the commentary of Adi Sankara, the first four sutras of the Brahma-sutra cover the essence of the entire vision of the Vedanta-sastra. They also state that all the Upanisads reveal this same vision. In the rest of Brahma-sutra, what is taught in these first four is thoroughly discussed and proved. The introduction and a portion of the first sutra were completed in 2021, and this course will continue the text.
Vidura Niti (Sanskrit classes) with Swami Muktatmananda
In Chapters 33 through 40 of Udyoga Parva in the Mahabharata, Vidura outlines things wise people and leaders should do, and things they should not. (Text Link)
Guided Meditations with Swami Tattvavidananda (5 per week)
Satsangs (Q&A) with Swami Tattvavidananda (6 per week)
IN-PERSON ACCOMODATIONS ARE SOLD OUT
To View Online, CLICK HERE.
Tentative Schedule:
All times are Eastern Time ET (UTC-4)
Wed, Sept 28, 2022
9:00-9:15 am Welcome Address and Orientation by Gary Suresh
9:15-10:15 am Brahmasutra Class 1 with Swami Tattvavidanandaji
11:00 am-12:00 pm Vidura Niti (Sanskrit class) with Swami Muktatmanandaji
4:30-5:30 pm Brahmasutra Class 2 with Swami Tattvavidanandaji
7:30-8:30 pm Satsang (Q&A) with Swami Tattvavidanandaji
Online Viewers are invited to send any Satsang questions during the course
to arshavidyamedia@gmail.com. (No written reply will be sent)
Thurs, Sept 29 – Weds, Nov 2 (concluding Nov 2 at 11:00 am)
Exceptions:
– See Sunday Schedules below.
– Mondays are a day off (no sessions).
– No meditation on Mondays and Tuesdays.
– Monday, Nov 2 (concluding day) there will only be Meditation at 7 am and Brahmasutra Class at 9:00 am, followed by Gurudakshina
7:00-7:30 am Guided Meditation with Swami Tattvavidanandaji
9:00-10:00 am Brahmasutra Class 1 with Swami Tattvavidanandaji
11:00 am-12:00 pm Vidura Niti (Sanskrit class) with Swami Muktatmanandaji
4:30-5:30 pm Brahmasutra Class 2 with Swami Tattvavidanandaji
7:30-8:30 pm Satsang (Q&A) with Swami Tattvavidanandaji
Online Viewers are invited to send Satsang questions during the course
to arshavidyamedia@gmail.com. (No written reply will be sent)

Sunday Schedule (1st and 3rd Weekends, Oct 2 & 16)
7:00-7:30 am Guided Meditation with Swami Tattvavidanandaji
10:00-11:00 am Brahmasutra Class with Swami Tattvavidanandaji
11:30 am-12:30 pm Bhagavad Gita Chapter 6 with Swami Tattvavidanandaji
Sunday Schedule (2nd, 4th and 5th Weekends, Oct 9, 23 and 30)
7:00-7:30 am Guided Meditation with Swami Tattvavidanandaji
9:00-10:00 am Brahmasutra Class with Swami Tattvavidanandaji