Easter Weekend Family Vedanta Course
April 10 @ 8:00 pm

-

April 12 @ 1:00 pm

|

Recurring Event

(See all)

One event on April 19, 2019 at 8:00 pm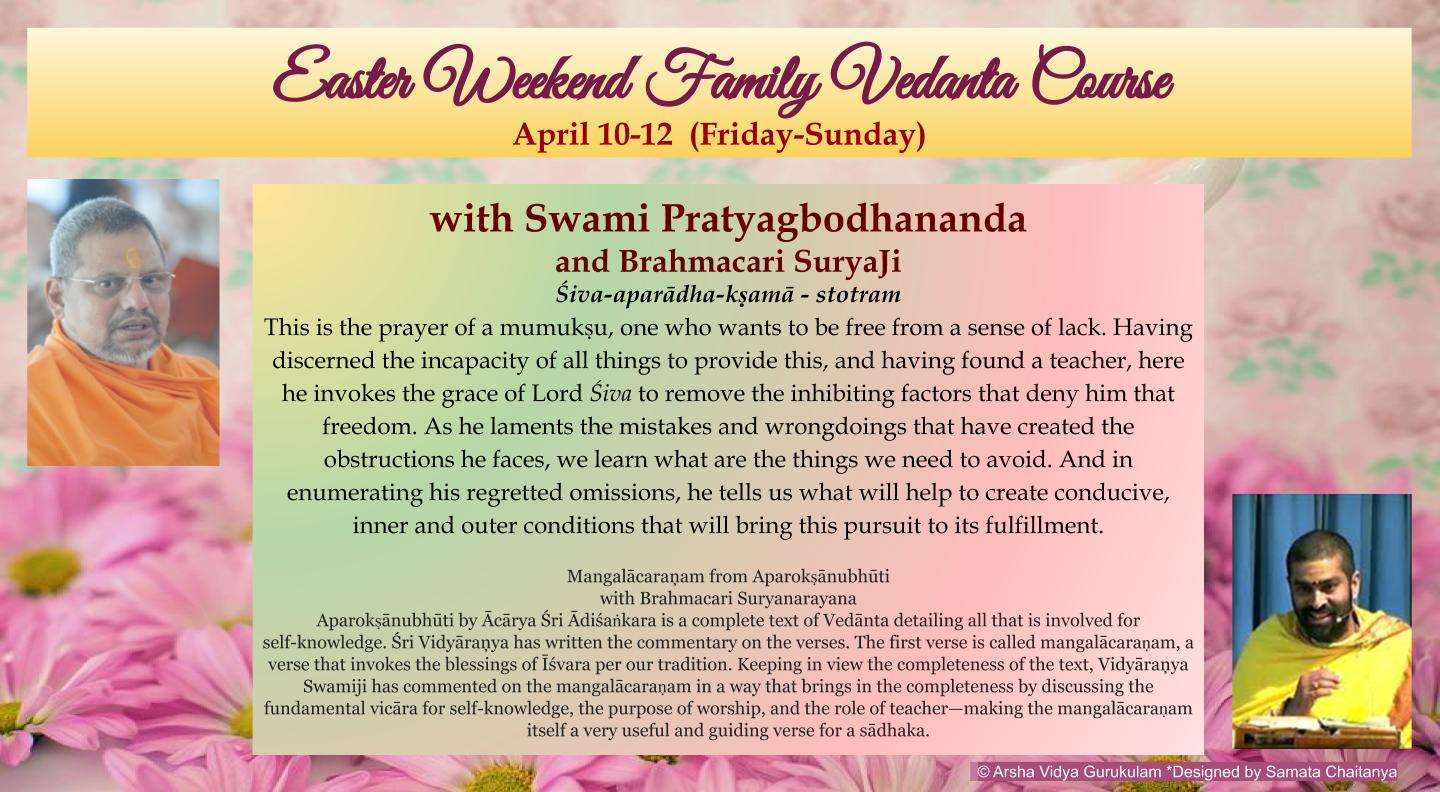 With Swami Pratyagbodhananda & Swami Muktatmananda
2020, April 10 – Apr12 (Fri-Sun)
Selected mantras from Muṇḍaka Upaniṣad
with Swami Pratyagbodhananda
As Swami Dayananda Saraswati pointed out, "in the teaching tradition, this Upaniṣad occupies an important place inasmuch as it covers all the important topics, besides the main topic which every Upaniṣad reveals. The importance of this Upaniṣad increases when we recognize the number of mantras from this Upaniṣad quoted in the traditional discussions of Vedānta." Through a selection of these mantras, Swami Pratyagbodhananda will unfold the vision of the Upaniṣads, showing how it fulfills the human aspiration.
Mangalācaraņam from Aparokṣānubhūti
with Brahmacari Suryanarayana
Aparokṣānubhūti by Ācārya Śri Ādiśaṅkara is a complete text of Vedānta detailing all that is involved for self-knowledge. Śri Vidyāraņya has written the commentary on the verses. The first verse is called mangalācaraṇam, a verse that invokes the blessings of Īśvara per our tradition. Keeping in view the completeness of the text, Vidyāraņya Swamiji has commented on the mangalācaraṇam in a way that brings in the completeness by discussing the fundamental vicāra for self-knowledge, the purpose of worship, and the role of teacher—making the mangalācaraṇam itself a very useful and guiding verse for a sādhaka.
---
2019, April 19 – Apr 21 (Fri-Sun)
Śiva aparādha kṣama stotram
with Swami Pratyagbodhananda
This is the prayer of a mumukṣu, one who wants to be free from a sense of lack. Having discerned the incapacity of all things to provide this, and having found a teacher, here he invokes the grace of Lord Śiva to remove the inhibiting factors that deny him that freedom. As he laments the mistakes and wrongdoings that have created the obstructions he faces, we learn what are the things we need to avoid. And in enumerating his regretted omissions, he tells us what will help to create the conducive inner and outer conditions that will bring this pursuit to its fulfillment.
Satsaṅgatve nissaṅgatvam
with Brahmacari Suryanarayana
"When there is association with wise or good people, there is freedom from (unhelpful or detrimental) associations." However dedicated one may be to the pursuit of mokṣa, one is subjected to internal and external influences that are not conducive to it. This sentence from Bhaja Govindam (vs. 9) contains the solution to this problem. One can protect and nurture one's pursuit by choosing to associate with the wise. In doing so, the necessary values, attitudes, priorities, śraddhā, and understanding will grow and mature in a supportive, caring environment.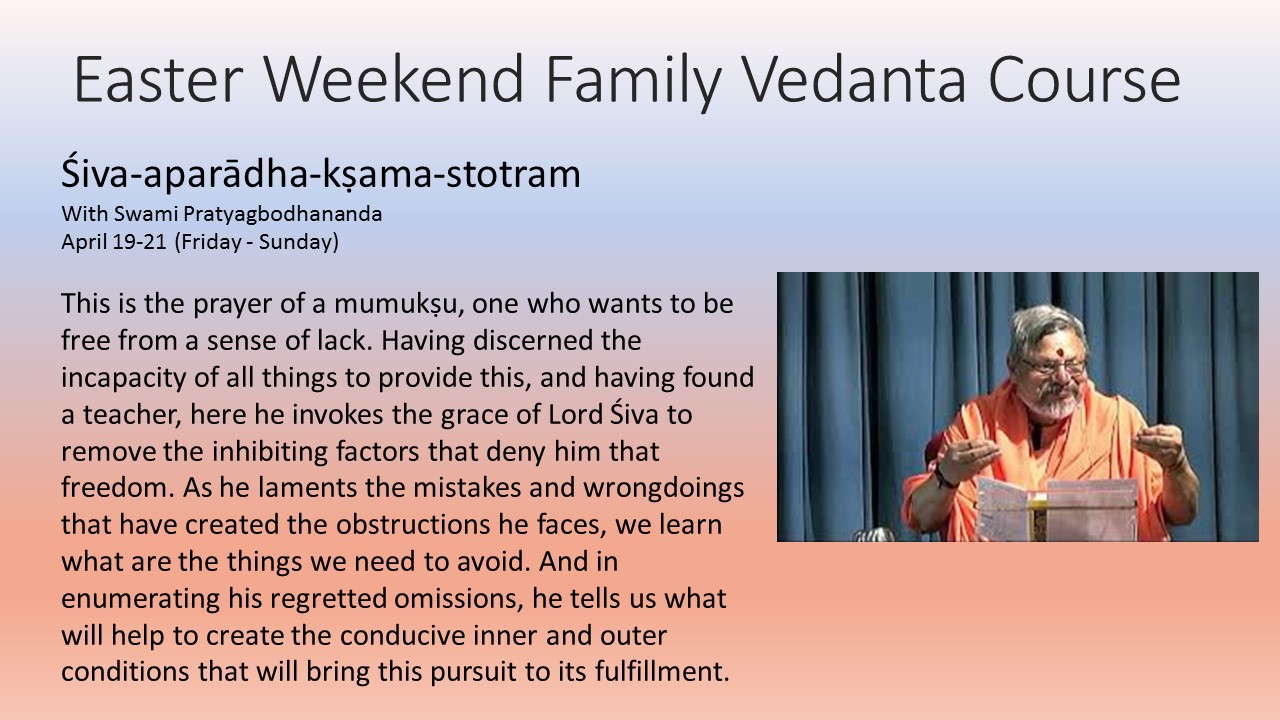 Related Events