Family Vedānta Course II with Swami Viditatmananda & Pratyagbodhananda
July 28 @ 8:00 pm

-

August 3 @ 1:00 pm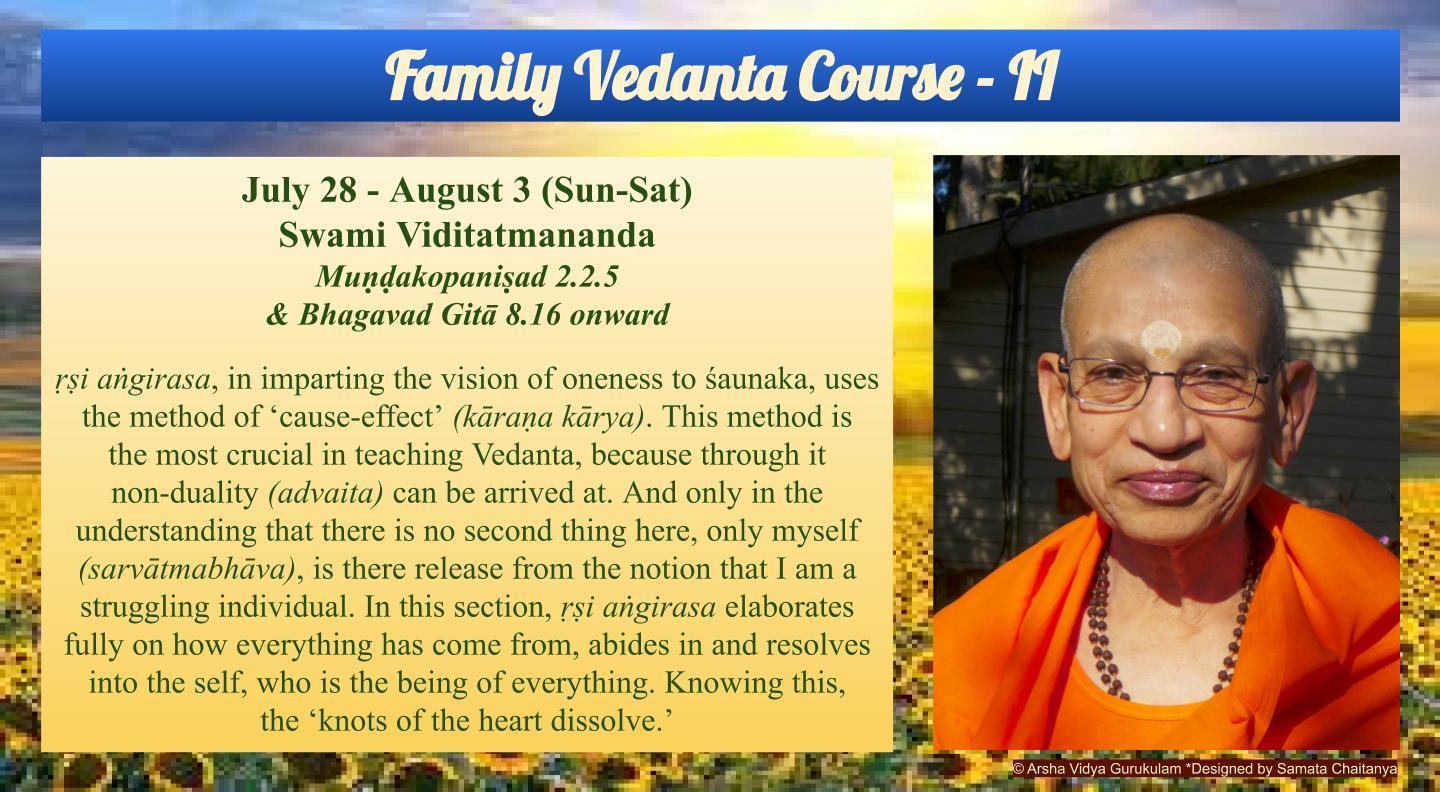 Swami Viditatmananda
Muṇḍakopaniṣad 2.2.5 onward
Ṛṣi Angira, in imparting the vision of oneness to Śaunaka, uses the method of 'cause-effect' (kāraṇa-kārya).  This method is the most crucial in teaching Vedānta, because through it non-duality (advaita) can be arrived at. And only in the understanding that there is no second thing here, only myself (sarvātmabhāva), is there release from the notion that I am a struggling individual. In this section, Ṛṣi Angira elaborates fully on how everything has come from, abides in and resolves into the self, who is the being of everything. Knowing this, the 'knots of the heart dissolve.'
Bhagavad Gītā 8.16 onward
This chapter begins with Arjuna asking Lord Krishna a series of questions. In two verses, Lord Krishna briefly answers all but one of them. Most of the rest of the chapter is the answer to Arjuna's last question, "At the time of departure (from this body) how are you known by those whose minds are steady?" Along with the implications, Swamiji will teach Lord Krishna's comprehensive answer to this question, so important to the one who is seeking freedom from all that is undesirable.
Swami Pratyagbodhananda
Dhruva-stuti from Bhāgavatam
Young Dhruva's praise of Lord Viṣnu in the 4th skanda of Bhāgavatam is a complete work on Vedānta. He opens with a declaration of his recognition of the Lord's presence in himself, as an individual, and in the entire creation.  Touching on the need for understanding what one really wants, and having adequate objectivity in order to receive it, he gives a number of means to help one gain the required qualifications for this vision. The emphasis is on bhakti. In the final verses, Dhruva unfolds the vision of Vedānta— everything is Lord Viṣnu, who at the same time, is completely free of everything.
Related Events