International Jyotiṣa Kumbha Mela
May 30 @ 9:00 am

-

June 9 @ 5:00 pm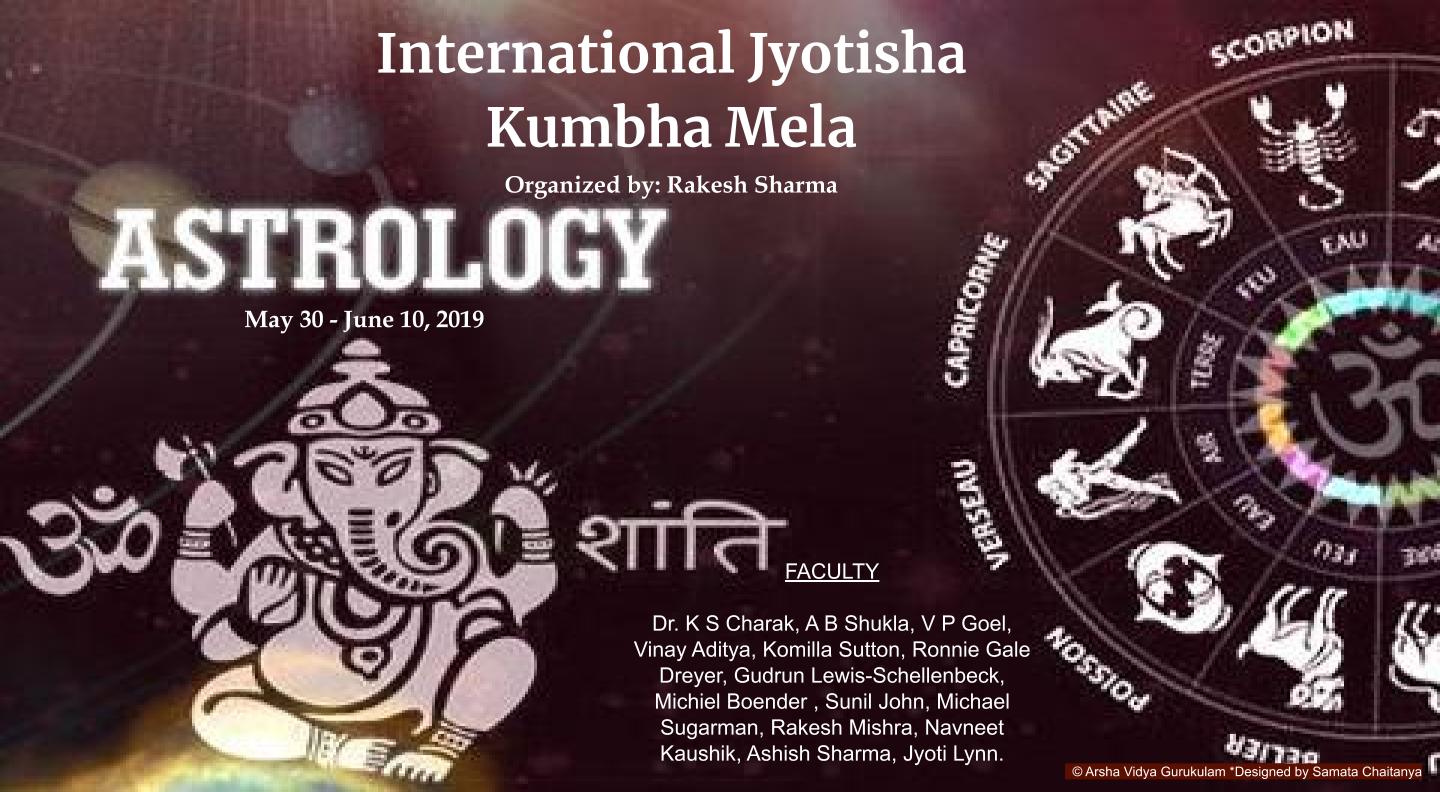 International Jyotish Kumbha Mela
Thursday May 30 to Sunday June 9, 2019
• The Making of a Doctor: Dr. K S Charak
• Ups and Downs in Relationship: Dr. K S Charak
• New Insights into Medical Astrology: Dr. K S Charak
• The Idiosyncrasies of Retrograde Mercury in Natal and Transit Charts: A B Shukla
• Deities of Dwadashamsha (D12) and their Application in Chart Analysis: A B Shukla
• How to Make Monthly/Daily Forecasts based on your Vedic Chart: A B Shukla
• Professions reflected by Nakshatras: Vinay Aditya
• Do you feel helpless without birth time of the native? Vinay Aditya
• Maraka Planets: Michael Sugarman
• Rahu Ketu and the Vargas: Komilla Sutton
• Kuja Dosha in Relationships and Marriage: Komilla Sutton
• Astrological Counseling Skills: Gudrun Schellenbeck
• Mental Health vs Mental Instability in a Chart: Gudrun Schellenbeck
• Insight into Divisional Charts Drekkana (D3) and Chaturthamsha (D4): V P Goel
• Insight into Divisional Charts Vimshamsha (D20) and Chatur Vimshamsha (D24): V P Goel
• Education through Gemini Astrology: V P Goel
• Trimshamsha (D30): Sunil John
• Prashna: Sunil John
• Predicting car accidents: Michiel Boender
• Advanced Techniques of ETP (Event-Time-Prediction): Ashish Sharma
• Sensitive Degrees 2019-20: Ronnie Gale Dreyer
• Astro-Cartography: Rakesh Mishra
• Vastu: Navneet Kaushik
• Inscrutable clues from the 8th House: An Astro-Medical Approach: Navneet Kaushik
---
10:40 am to 1:00 pm and 2:30 to 5:30 pm: Sunil John
Trimshamsha (D30): An in-depth study into the unknown uses of Trimshamsha. What Rashi chart does not easily show, the Trimshamsha shows.
7:30 to 9:00 pm: Jyoti Lynn
9:00 am to 12:30 pm: Dr. K S Charak
New Insights into Medical Astrology
2:00 pm to 5:30 pm: Komilla Sutton
Kuja Dosha in Relationships and Marriage
Honoring Teachers for Silver Jubilee Celebration
---
9:00 am to 12:30 pm: Dr. K S Charak
Ups and Downs in Relationship
2:00 pm to 5:30 pm: A B Shukla
Deities of Dwadashamsha (D12) and their Application in Chart Analysis
Roundtable Discussion on Destinies of Nations: USA and India. Discussants: All the faculty members present 
---
June 2nd, Sunday
9:00 am to 1:00 pm: V P Goel
Insight into Divisional Charts: Drekkana (D3) and Chaturthamsha (D4)
2:00 pm to 5:30 pm: Komilla Sutton
Rahu-Ketu and the Vargas
7:00 pm to 8:30 pm: Vinay Aditya
Do you feel helpless without birth time of the native?
9:00 am to 12:30 pm: Dr. K S Charak
The Making of a Doctor
2:30 pm to 5:30 pm: Gudrun Shellenbeck Lewis
Mental Health vs Mental Instability in a Chart
There is often a fine line between mental health or mental instability in a chart. Since these issues frequently come up during consultations it can be helpful, if one recognizes certain psychological issues like depression, traumatization, ADS or Narcissism in a horoscope and so avoid overwhelming and destabilizing a client with negative assessments. In this workshop research results on the level of mental disease will be presented with a number of charts to understand the pattern.

7:30 pm to 9 pm: Q & A with Dr. K S Charak
9:00 am to 12:30 pm: Ms Gudrun Schellenbeck
Astrological Counseling Skills
As Astrologers we have more tools available than other counselors or coaches. In this workshop we will try to find out, which tools of communication should be used or avoided on the basis of different chart-types.

Roundtable Discussion on Astrological Counselling, moderated by Gudrun. Participants: Vinay Aditya, Rakesh Mishra, Michael Sugarman, Ronnie Gale Dreyer, Michiel Boender
Evening 7:30 to 9 pm: Rakesh Mishra
Astro-cartography
When we move to various locations, different areas of our birth chart are emphasized. Imagine a color wheel in front of a spotlight. Each color here would represent a different field of activity, lessons and growth. As we move either east or west from our birthplace the wheel rotates and a different hue fills the stage of life.

9:00 am to 12:30 pm: Vinay Aditya
Professions Reflected by Nakshatras
2:00 pm to 5:30 pm: Michael Sugarman
Maraka Planets
Yes maraka planets certainly have the power to end one's life when longevity has run out, but marakas can also bring separation and loss related to other individuals in one's life — family, friends, professional associations etc.

7:30 pm to 9:00 pm: Ronnie Gale Dreyer:
Sensitive Degrees 2019-2020
The coming year will be filled with so many planetary signatures that we should expect the year ahead to continue to be a bumpy ride. We will especially look at the upcoming eclipses, and Ketu's conjunction with Saturn and then Jupiter in the world and our own charts. Previous cycles will be key.

9:00 am to 12:30 pm: V P Goel
Insight into Divisional Charts: Vimshamsha (D20) and Chatur Vimshamsha (D24)
2:00 pm to 5:30 pm: Michiel Boender
Predicting Car Accidents
7:30 pm to 9:00 pm: Sunil John:
Special topic
9:00 am to 12:30 pm: A.B. Shukla
The Idiosyncrasies of Retrograde Mercury in Natal and Transit Charts
2:00 to 5:30 pm: Ashish Sharma
Advanced Techniques of ETP (Event-Time-Prediction)
9:00 am to 12:30 pm: A.B Shukla
How to Make Monthly/Daily Forecasts based on your Vedic Chart
2:00 pm to 5:30 pm: V.P. Goel
Education through Gemini Astrology
7:30 pm to 9:00 pm: 
Navneet Kaushik:
An Introduction to Vastu*.
* Mr Navneet Kaushik will take Comprehensive Vastu from June 10 to 14, 2019
9:00 am to 12:30 pm: Sunil John
Prashna
Multiple Unknown methods of prashna will be revealed in this presentation. Some are new researches by the speaker and some are collected by roaming among village astrologers.

2:00 to 5:00 pm: Navneet Kaushik
Inscrutable clues from the 8th House: An Astro-Medical Approach
Note: Due to unavoidable circumstances the Faculty and their topics may undergo change. Right of admission reserved.
Dr. K S Charak M.S. F.R.C.S. is a practicing Surgeon and has written 10 books on various subjects of Jyotish. Most of his books are considered authentic texts on respective subjects. He has been teaching Jyotish for more than a quarter century. Dr Charak also leads SOSMT, a charitable organization devoted to providing free surgical and medical care to the poor and the ailing in the rural areas of India.
A B Shukla, IAS is a retired senior government officer and Hon. President of Indian Council of Astrological Sciences, an all India organization founded by late Shri B.V. Raman. He strides over the wide spectrum of esoteric as well as the prosaic aspects of practice of Vedic Astrology.
V P Goel has been teaching Vedic astrology for last 20 years. He has written several books on varied subjects in Jyotish. His academic and professional background has been in engineering.
Vinay Aditya has written two popular books on Ashtakavarga and has been teaching Jyotish in India, USA and Germany for more than 25 years. He has an engineering degree from IIT Kanpur. He has been awarded the title of Jyotish Brihadacharya by ICAS. He has recently come out with a book titled Palmistry: Sutra and Siddhanta.
Komilla Sutton is an internationally renowned consultant, teacher & lecturer. She is the Co-Founder & Chair of the British Association of Vedic Astrology, London.
Ronnie Gale Dreyer is the author of several books on Vedic Astrology. She has studied Vedic Astrology at Sanskrit University in Banaras, India and wrote the first book on Vedic Astrology for the westerners in 1990.
Gudrun Lewis-Schellenbeck, has been focusing on Vedic Astrology since 1990 and has published two books in German. In 2001 she and her husband founded the German/European Society for Vedic Astrology and the Astrovedic Academy, which is recognized as an official training-center for professional astrologers. Gudrun has been lecturing international for nearly 20 years.
Michiel Boender is the originator of the widely used Jyotish Software, Parashara Light. His software is considered as one of the most user-friendly software. He has been practicing Vedic Astrology for over 25 years.
Sunil John is the founder of Saptarishis Astrology website with students spread in every corner of the world. He is a student of late Shri C S Patel and has published many books on rare subjects in Vedic Astrology.
Michael Sugarman is a professional Psychologist specializing in de-addiction and has been practicing Jyotish for over 20 years.
Rakesh Mishra has been a professional Sidereal astrologer practicing in Florida with a global phone clientele. He has spent the past four decades blending the ancient wisdom of Jyotish with the more recent techniques from western astrology. He has read the charts of about 10,000 clients in five continents in the past 35 years.
Navneet Kaushik IRSSE has a degree in Electronics and has spent many years working with Delhi Metro. Honoured with the title of Jyotish Kalamani, he is currently Hon. Addl. Controller of Examinations of ICAS, India. He has authored Vastu Chintamani, a comprehensive book on Vastu under the guidance of A B Shukla.
Ashish Sharma has a degree in Engineering and is Hon. Assistant Controller of Examinations ICAS. He has written a book on Event-Time Prediction (an unusual Prashna technique) under the guidance of A B Shukla.
Jyoti Lynn was assistant to Jyotish scholar Narendra Desai for the last twelve years of his life. She has been writing for Michael Laughton's North American Jyotish newsletter since 2017 and is a produced playwright.
Course Fee: $695 for May 30 to June 9.
Each Day $125, Weekend $225
For more information please visit:
• https://arshavidya.org/event/international-jyoti%E1%B9%A3a-kumbha-mela/
A few voluntary positions will be available to those who need help with the tuition. Kindly contact Rakesh Sharma
Room & Board for shared or single room basis are available. 
Call Vimla at: 570-992-2339 Ext. 210. 
All payments to Arsha Vidya Gurukulam
The eminent faculty of astrologers will be available for private consultations for the duration of the seminar, with prior appointments. For requesting appointments, and any other information about the course, please contact Vimla at 570-992-2339 Ext 210.
April 27 – 28, 2019 and August 17 – 18, 2019
Review of Basic Jyotish: How to Analyze a Horoscope
Basics of Vastu Principles 
Basics of Vastu principles covering five natural elements, planets, deities of directions, etc. with amalgamation of traditional concept of vastu purush will be discussed initially. Later on practical application of these concepts on modern day situations and present day houses will be covered.