One-Week Vedanta Course I for Adults
September 9 @ 8:00 pm

-

September 15 @ 1:00 pm

|

Recurring Event

(See all)

One event on September 14, 2019 at 8:00 pm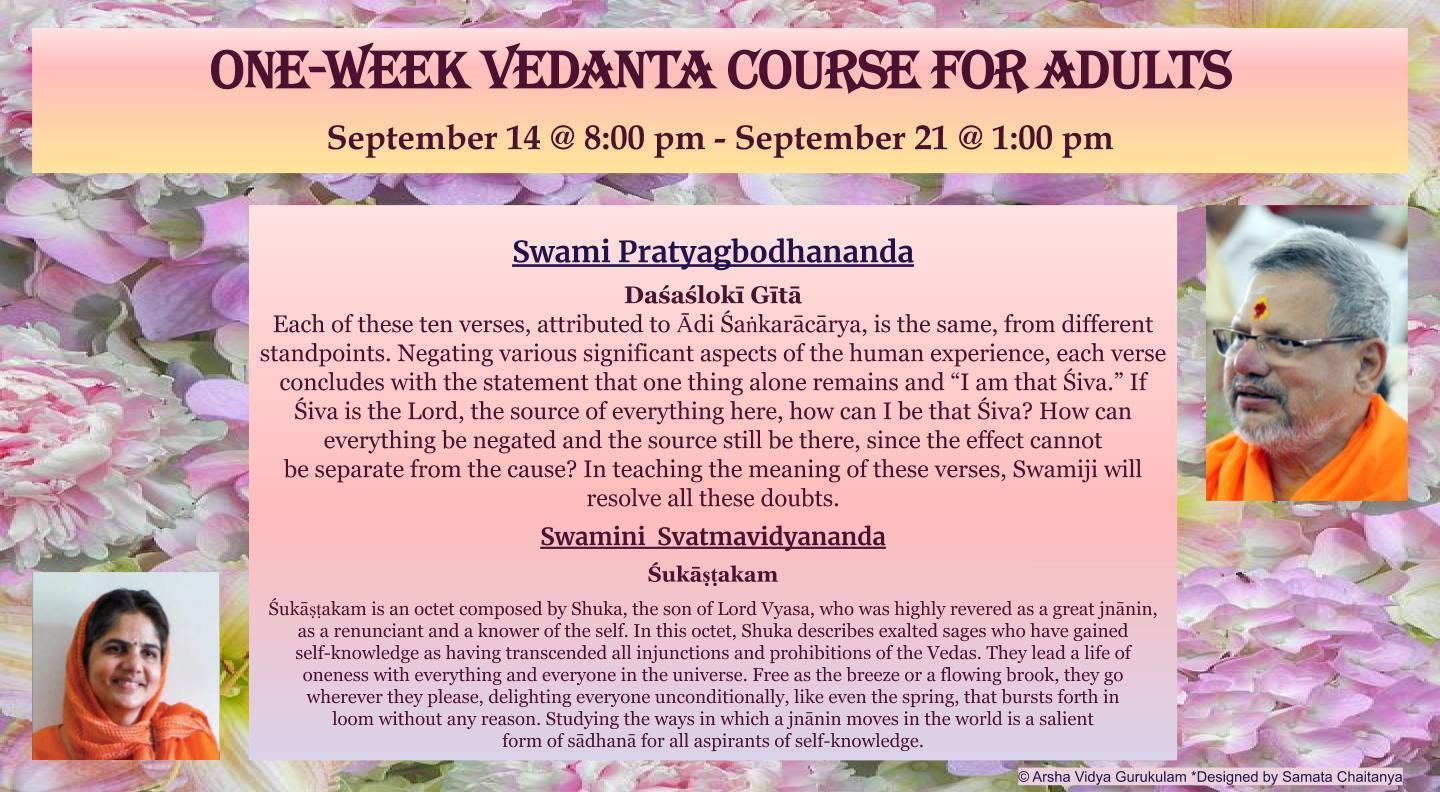 With:
Swami Tattvavidananda
Swami Pratyagbodhananda
---
2019 Event
Swami Pratyagbodhananda
Daśaślokī Gītā
Each of these ten verses, attributed to Ᾱdi Śaṅkarācārya, is the same, from different standpoints. Negating various significant aspects of the human experience, each verse concludes with the statement that one thing alone remains and "I am that Śiva." If Śiva is the Lord, the source of everything here, how can I be that Śiva? How can everything be negated and the source still be there, since the effect cannot
be separate from the cause? In teaching the meaning of these verses, Swamiji will resolve all these doubts.
Swamini  Svatmavidyananda
Śukāṣṭakam
Śukāṣṭakam is an octet composed by Shuka, the son of Lord Vyasa, who was highly revered as a great jnānin, as a renunciant and a knower of the self. In this octet, Shuka describes exalted sages who have gained self-knowledge as having transcended all injunctions and prohibitions of the Vedas. They lead a life of oneness with everything and everyone in the universe. Free as the breeze or a flowing brook, they go wherever they please, delighting everyone unconditionally, like even the spring, that bursts forth in bloom without any reason. Studying the ways in which a jnānin moves in the world is a salient form of sādhanā for all aspirants of self-knowledge.
Related Events