Two Week Bhashyam Course for Adults
July 7 @ 8:00 pm

-

July 21 @ 1:00 pm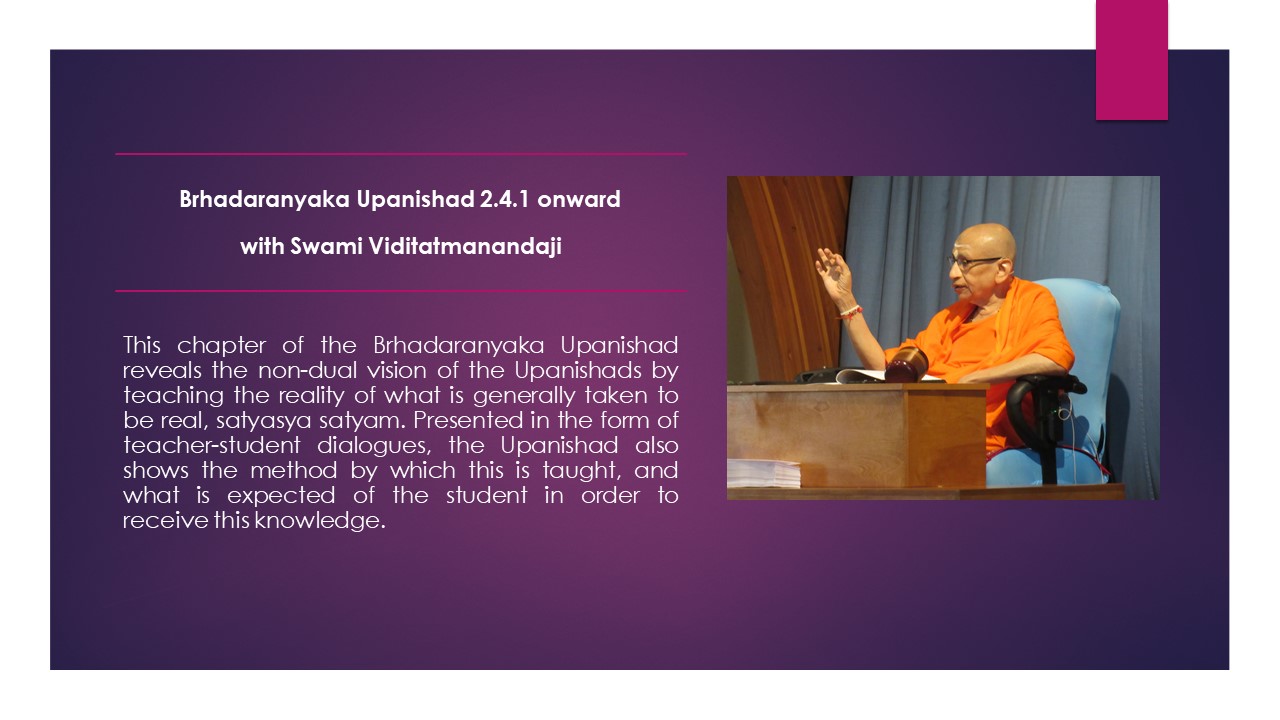 Brhadaranyaka Upanishad 2.4.1 onward
with Swami Viditatmanandaji
Topic:
बृहदारण्यक उपनिषद्, Bṛhadāraṇyaka Upaniṣad) 2.4.1 onward
This chapter of the बृहदारण्यक उपनिषद्, Bṛhadāraṇyaka Upaniṣad) reveals the nondual vision of the Upaniṣads by teaching the reality of what is generally taken to be real, satsyasya satyam.  Presented in the form of teacher-student dialogues, the Upaniṣad also shows the method by which this was taught, and what is expected of the student in order to receive this knowledge.
This course is available in-person and online:
For in-person participation, please register by calling Vimala directly at 570/656-0193.
For online participation, please register by clicking here or visiting the Live Streaming page arshavidya.org/live.
We are opening Arsha Vidya Gurukulam at Saylorsburg, PA, to everyone with or without a mask from 28th of June. Preventative measures such as masking and social distancing are optional and it is visitors' choice and responsibility.
TENTATIVE COURSE SCHEDULE:
Wednesday, July 7th, 2021
8:00-9:00 pm Welcome Address and Introduction
Thursday to Tuesday, July 8 to 20*
* July 18th morning Bhashyam classes will be at 10 am and 11:30 am ET. Sanskrit class canceled on 7/18.
5:45-7:00 am Abhisheka to Lord Dakshinamurti
7:00-7:30 am Guided Meditation
9:00 – 10:00  am  Bṛhadāraṇyaka Upaniṣad Class 1
11:15 am -12:15 pm Bṛhadāraṇyaka Upaniṣad Class 2
12:15 -12:30 pm Afternoon Arati
3:30-4:30 pm Sanskrit with Deepa Aier
05:00 -06:00 pm Bṛhadāraṇyaka Upaniṣad Class 3
6:00-6:30 pm Evening Arati
6:30 -7:45 pm Dinner
8:00-9:00 pm Satsang (Q&A)
Those who are registered for live-streaming can send questions to arshavidyamedia@gmail.com. (No written reply will be sent).
Wednesday, July 21
5:45 – 7:00 am Abhisheka to Lord Dakshinamurti
7:00-7:30 am Guided Meditation
9:00-10:00 am Bṛhadāraṇyaka Upaniṣad Class1
11:00am-12:00 pm  Concluding Bṛhadāraṇyaka Upaniṣad
12:00 pm Gurudakshina followed by Arati and Lunch
PLEASE NOTE:
ALL THE CLASSES WILL BE HELD AT THE NEW BUILDING AUDITORIUM
( Near Yoga Studio)
Related Events
Calendar powered by The Events Calendar