2020 Year-End Vedānta Course with Live-Streaming
December 24, 2020 @ 8:00 pm

-

December 31, 2020 @ 12:00 pm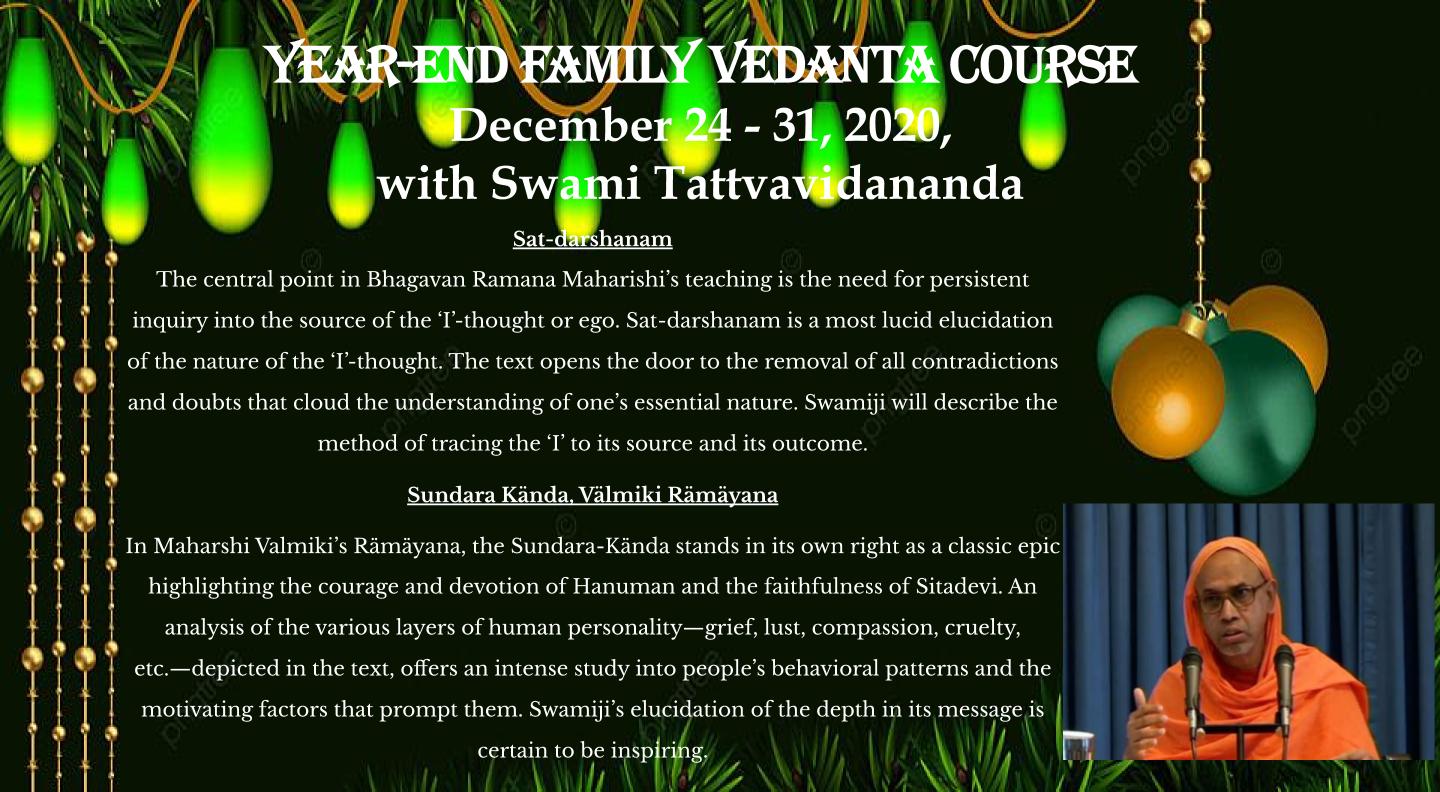 with Swami Tattvavidananda
Sat-darshanam
The central point in Bhagavan Ramana Maharishi's teaching is the need for persistent inquiry into the source of the 'I'-thought or ego. Sat-darshanam is a most lucid elucidation of the nature of the 'I'-thought. The text opens the door to the removal of all contradictions and doubts that cloud the understanding of one's essential nature. Swamiji will describe the method of tracing the 'I' to its source and its outcome.
Sundara Kända, Välmiki Rämäyana
In Maharshi Valmiki's Rämäyana, the Sundara-Kända stands in its own right as a classic epic highlighting the courage and devotion of Hanuman and the faithfulness of Sitadevi. An analysis of the various layers of human personality—grief, lust, compassion, cruelty, etc.—depicted in the text, offers an intense study into people's behavioral patterns and the motivating factors that prompt them. Swamiji's elucidation of the depth in its message is certain to be inspiring.
LIVE STREAMING
Access to recorded classes is included until Jan 7, 2021. After that, access will be available for an additional fee.
2020 Year-End Course Text
https://arshavidya.org/wp-content/uploads/2020-Year-end-Text.pdf
Thurs, Dec 24
7:45-8:00pm Welcome Address and Orientation
8:00pm Satsang (Q&A) with Swami Tattvavidananda
Send your questions to arshavidyamedia@gmail.com (no written reply will be sent).
Fri, Dec 25 thru Weds, Dec 30
7:00-7:30am Guided Meditation with Swami Tattvavidananda
9:30-10:30am Sat Darshanam of Ramana Maharshi with Swami Tattvavidananda (Part 8)
10:45am-12:15pm Bhagavad Gita Chanting for Gita Jayanti: Ch 2, 8, 15 &18 (Fri)
11:00-11:45am
Sanskrit and Chanting with Br. Suryanarayan (Sat/Mon/Wed)
Music Class with Chitra Rajan (Sun/Tues)
4:00-5:00pm Valmiki Ramayana Sundara Kanda with Swami Tattvavidananda
7:30-8:30pm Satsang (Q&A) with Swami Tattvavidananda
Send your questions to arshavidyamedia@gmail.com (no written reply will be sent).
Thurs, Dec 31
(tentative schedule)
7:00-8:00am Sat Darshanam or Ramayana with Swami Tattvavidananda
10:30am-12:30pm Concluding Class and Gurudakshina
4:15pm Daksinamurti mula-mantra-japa (1008 times) followed by evening aarati
11:00-11:45pm
Bhajans with Sahadev and Chitra
11:45-Midnight
Om Nama Shivaya Chanting -Pujya Swamiji (Video)
Welcoming New year by Showing Aarati to Lord Daksinamurti
Fri, Jan 1
9:30am onward:
New Year puja begins with sponsors Sankalpa and followed by RudrAbhiseka, Swamijis message, PushpArachana, DipaAradhanam
Calendar powered by The Events Calendar