Year-End Vedānta Course
December 24 @ 8:00 pm

-

December 31 @ 5:00 pm

|

Recurring Event

(See all)

One event on December 24, 2019 at 8:00 pm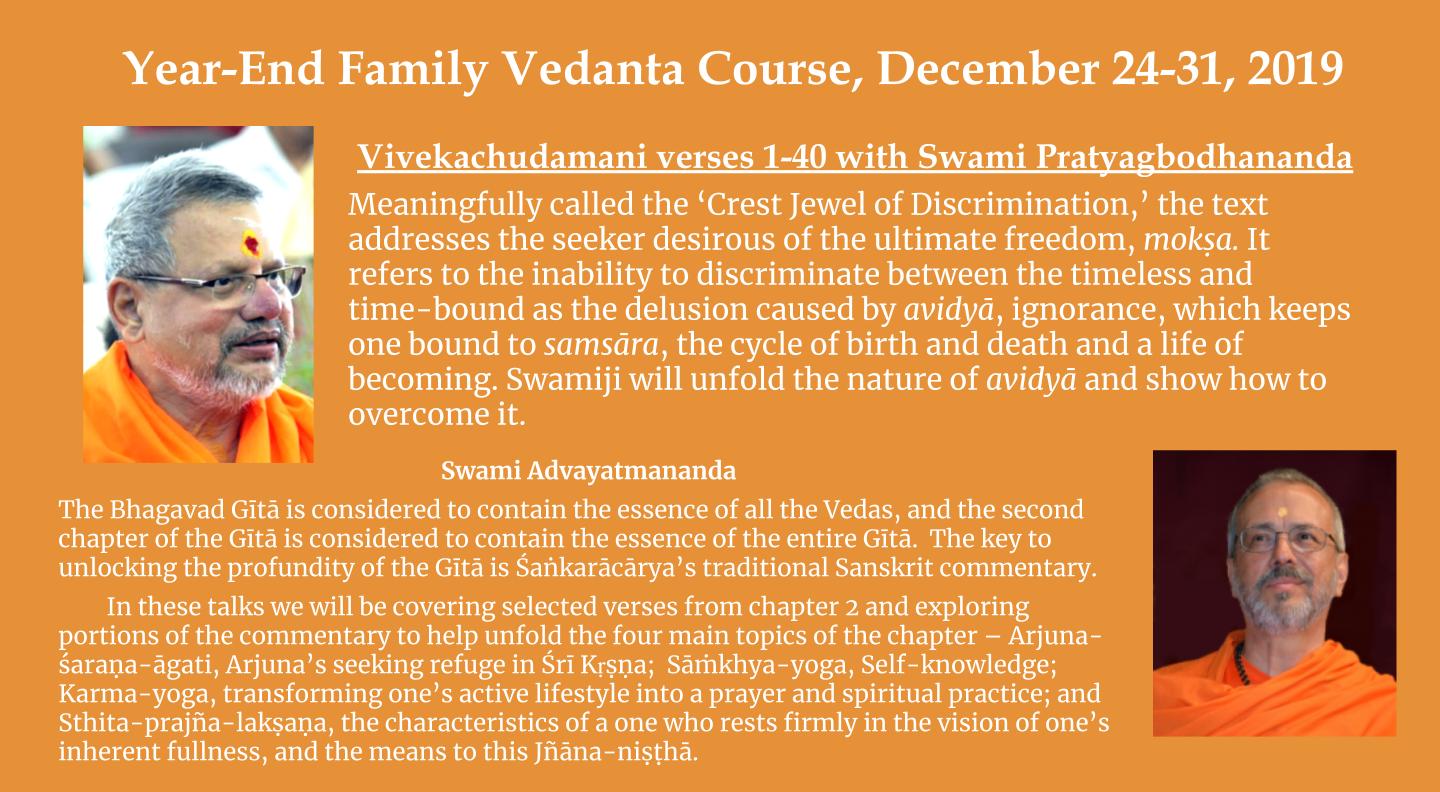 Vivekachudamani verses 1-40 with Swami Pratyagbodhananda
Meaningfully called the 'Crest Jewel of Discrimination,' the text addresses the seeker desirous of the ultimate freedom, mokṣa. It refers to the inability to discriminate between the timeless and time-bound as the delusion caused by avidyā, ignorance, which keeps one bound to samsāra, the cycle of birth and death and a life of becoming. Swamiji will unfold the nature of avidyā and show how to overcome it.
---
Swami Advayatmananda
The Bhagavad Gītā is considered to contain the essence of all the Vedas, and the second chapter of the Gītā is considered to contain the essence of the entire Gītā.  The key to unlocking the profundity of the Gītā is Śaṅkarācārya's traditional Sanskrit commentary. 
In these talks we will be covering selected verses from chapter 2 and exploring portions of the commentary to help unfold the four main topics of the chapter – Arjuna-śaraṇa-āgati, Arjuna's seeking refuge in Śrī Kṛṣṇa;  Sāṁkhya-yoga, Self-knowledge; Karma-yoga, transforming one's active lifestyle into a prayer and spiritual practice; and Sthita-prajña-lakṣaṇa, the characteristics of a one who rests firmly in the vision of one's inherent fullness, and the means to this Jñāna-niṣṭhā. 
No previous Sanskrit knowledge is required but is helpful.  Handouts of the verses with relevant commentary selections will be provided in both devanāgarī and transliteration.
Related Events