The temple will be open to the public every Saturday and Sunday between 10:00 am – 12:30 pm and during pradosa-kala puja.
Please inform us before you come by email to suddhatma@gmail.com or avpoffice@gmail.com or by phone to 570-992-2339, so that we can place you on the list. pre-register before visiting the gurukulam.

10:00 am to 10:45 am General darshan
11:00 am to 12:30 pm Abhisekam to Lord Daksinamurti followed by arati [limited to 50 people]
Prasadam packet (lunch) will be provided after aarti at ~12:15 PM.
Temple Opening Announcement [Please read this before coming to the temple.]
pre-registration form
Your health and safety is our priority.
---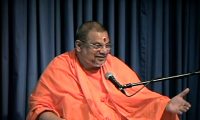 August 2 @ 8:00 pm
-
August 8 @ 1:00 pm